Future Topics
Data Literacy Snacks 2021
In our free Online-Micro-Series, we provided engaging data literacy contents and skills in a digestive 60 minutes format.
The Data Literacy Snacks took place online every second Wednesday, 1:00 PM CEST starting on May 12, 2021. We presented topics such as Research Data Management, Reproducible Data Analysis, Privacy Law and Wikibase Knowledge Graphs presented in a lunch-sized snack format.
Schedule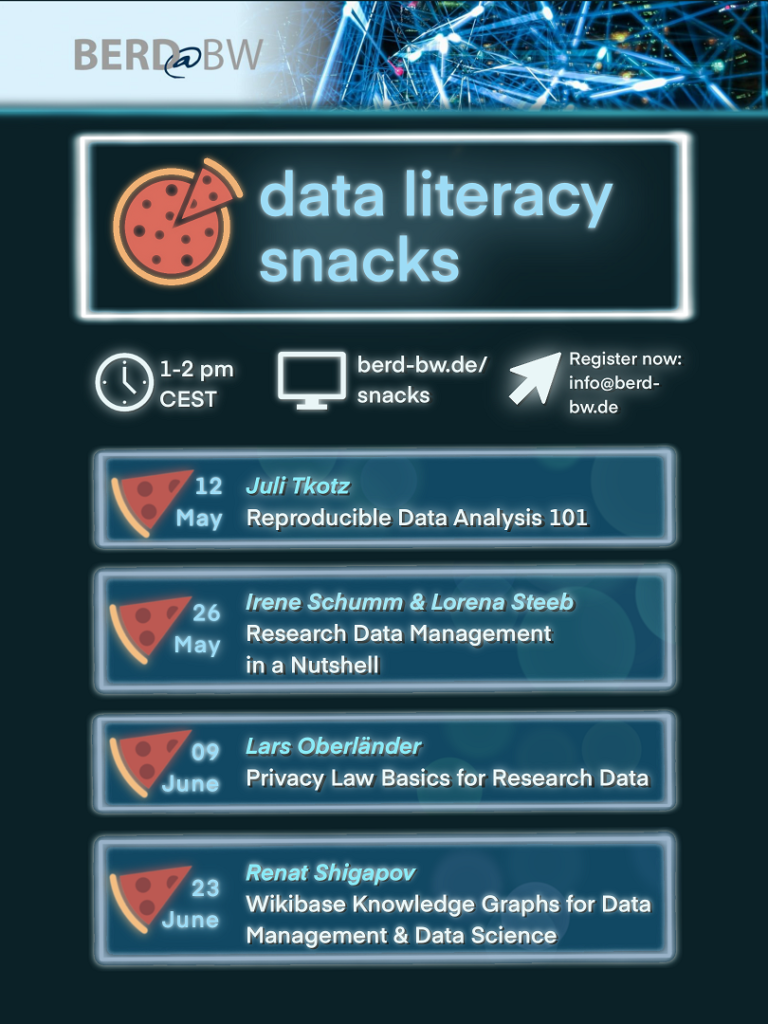 Slides
May 12, 1pm CEST – Reproducible Data Analysis 101 – Juli Tkotz
May 26, 1pm CEST – Research Data Management in a Nutshell – Irene Schumm & Lorena Steeb
June 09, 1pm CEST – Privacy Law Basics for Research Data – Lars Oberländer
June 23, 1pm CEST – Wikibase Knowledge Graphs for Data Management & Data Science – Renat Shigapov
All data will be treated in compliance with the University of Mannheim Data Protection Declaration. By sending us your registration information, you agree to the processing of the data for the reason of registration according to Art. 6 I a) of the General Data Protection Regulation.