DSSG Lecture Series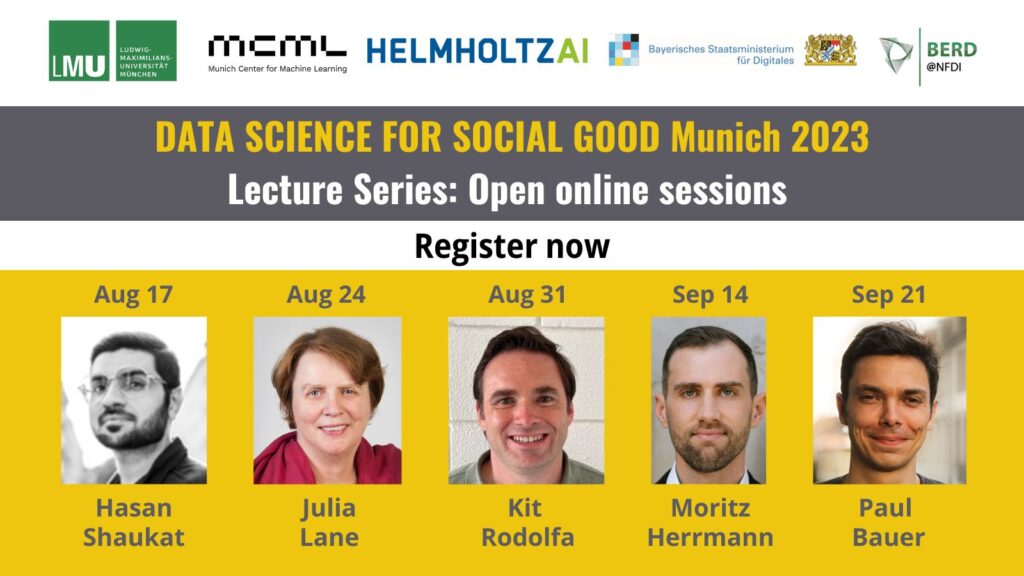 Join the DSSG Lecture Series featuring talks by professionals in AI, Data Science, and more. Explore the latest research and gain valuble real-world knowledge in stimulating conversations.
Visit the website to check out the timetable, read more about the speakers' profiles and find the registration links.
Register here for the first open lecture session on Aug 17th where Hassan Shaukat presents the thrilling work of DSSG Berlin e.V.
Angewandte Datenanalyse für die öffentliche Verwaltung in Bayern (ADA Bayern)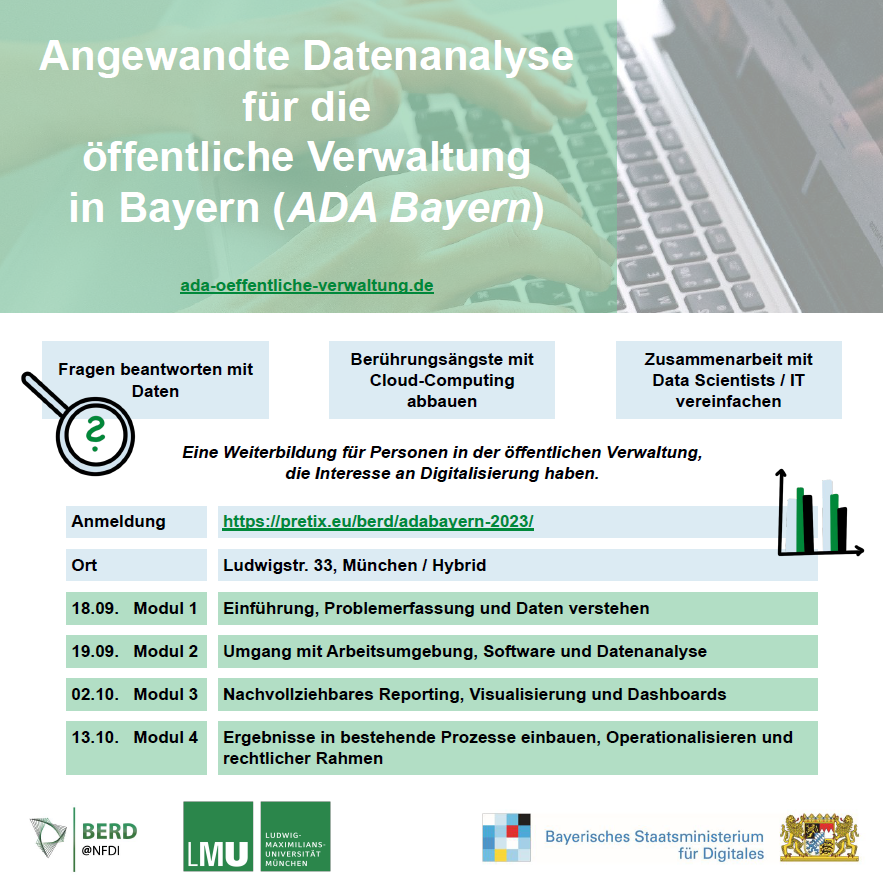 Attention all public administration professionals with a keen interest in digitalization! We are thrilled to present "Angewandte Datenanalyse für die öffentliche Verwaltung in Bayern" (ADA Bayern), an exclusive training program tailored just for you.

From leveraging data to provide valuable answers 📈, tackling any apprehensions related to cloud computing ☁️ to simplifying collaboration with Data Scientists/IT 🤝 – this comprehensive program is designed to equip you with the essential skills to harness the power of data for efficient decision-making and streamlined processes in your public administration roles.

Seats are limited, so secure your spot now! Register at
https://lnkd.in/eastvEHJ
---
BERD Academy Program October & November
Learn 𝗗𝗮𝘁𝗮 𝗦𝗰𝗶𝗲𝗻𝗰𝗲 and 𝗗𝗮𝘁𝗮 𝗠𝗮𝗻𝗮𝗴𝗲𝗺𝗲𝗻𝘁 through our exciting new range of 𝗕𝗘𝗥𝗗 𝗔𝗰𝗮𝗱𝗲𝗺𝘆 courses scheduled for 𝗢𝗰𝘁𝗼𝗯𝗲𝗿 and 𝗡𝗼𝘃𝗲𝗺𝗯𝗲𝗿 2023. Join us for on-site workshops or participate online in interactive sessions.

Completely free of charge and open to everyone, we extend a warm invitation to 𝗲𝗻𝗴𝗮𝗴𝗲 𝗶𝗻 𝗱𝗶𝘀𝗰𝘂𝘀𝘀𝗶𝗼𝗻𝘀 𝗼𝗻 𝗱𝗮𝘁𝗮 𝗮𝗻𝗱 𝘀𝗼𝗰𝗶𝗲𝘁𝘆📊🌍, 𝗴𝗮𝗶𝗻 𝗶𝗻𝘀𝗶𝗴𝗵𝘁𝘀 𝗶𝗻𝘁𝗼 𝗲𝗻𝘀𝘂𝗿𝗶𝗻𝗴 𝘁𝗵𝗲 𝗿𝗲𝗽𝗿𝗼𝗱𝘂𝗰𝗶𝗯𝗶𝗹𝗶𝘁𝘆 𝗼𝗳 𝘆𝗼𝘂𝗿 𝗿𝗲𝘀𝗲𝗮𝗿𝗰𝗵📓, or 𝗮𝗰𝗾𝘂𝗶𝗿𝗲 𝗺𝗮𝗰𝗵𝗶𝗻𝗲 𝗹𝗲𝗮𝗿𝗻𝗶𝗻𝗴 𝘀𝗸𝗶𝗹𝗹𝘀 𝘄𝗶𝘁𝗵 𝗽𝗿𝗮𝗰𝘁𝗶𝗰𝗮𝗹 𝘂𝘀𝗲 𝗰𝗮𝘀𝗲𝘀 𝗶𝗻 𝗢𝗳𝗳𝗶𝗰𝗶𝗮𝗹 𝗦𝘁𝗮𝘁𝗶𝘀𝘁𝗶𝗰𝘀📈.
𝗥𝗘𝗚𝗜𝗦𝗧𝗘𝗥 𝗡𝗢𝗪!

For our complete course schedule, additional information, and registration details, please visit: https://www.berd-nfdi.de/berd-academy/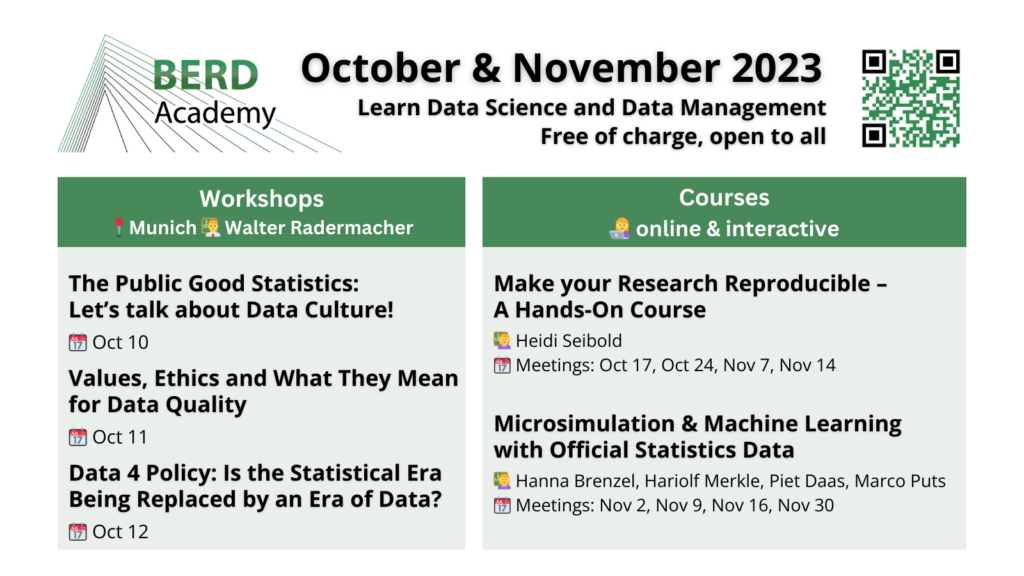 Past Events
[IAB-SMART 3] How to tidy and anonymize raw smartphone geolocation data: Code and Practitioner's Examples from the IAB-SMART Project
Learn how to structure, tidy, and anonymize raw geolocation data to create activity indicators using the data collected by the IAB-SMART-App.
With Andreas Filser
Online, July 12th 2023, 1:00pm – 2:00pm CEST
---
A Connected World: Data Analysis for Real-World Network Data
This workshop provides you with an overview of different research strains in the field of network data analysis. In a hands-on session, you will learn to analyze a real-world network dataset through the use of existing, readily available software packages.
With Cornelius Fritz, Giacomo De Nicola, and Göran Kauermann
Munich, July 19th 2023
---
Joint Conference on Research on Text Analytics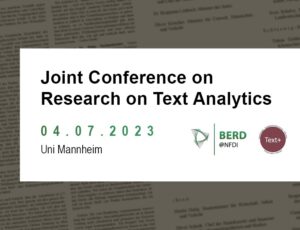 Text data plays a crucial role in the NFDI (National Research Data Infrastructure), particularly in the BERD@NFDI and Text+ consortia, which focus on research in Business, Economics, and Related Data (BERD@NFDI) and humanities (Text+). While these consortia cater to distinct communities and research inquiries, they share commonalities in their approaches, such as utilizing machine learning, language models, and other natural language processing techniques. The aim of the Joint Conference on Research on Text Analytics is to showcase various application domains and explore potential collaborations by examining shared methodologies.
Please find the program here.
---
BERD All Hands Meeting
15 and 16 May 2023, via Zoom
Despite the change in format, our agenda is brimming with stimulating discussions, enlightening presentations, and productive sessions.
---
NFDI ToolTalk: Cloud-based Research Data Management using Invenio by Klaus Tochtermann and Ahmed Saleh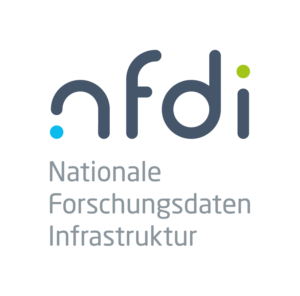 20 February 2023, 4 p.m. – 5 p.m. via Zoom
---
NFDI InfraTalk: Commercial Cloud Solutions for non-commercial RDM by Klaus Tochtermann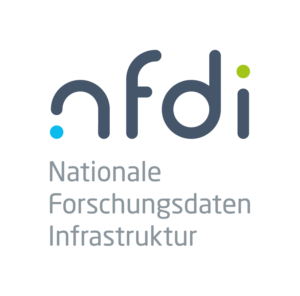 5 December 2022, 4 p.m. – 5 p.m. via Zoom
---
Big Data Analyses and New Developments in Research Data Centres (RDC)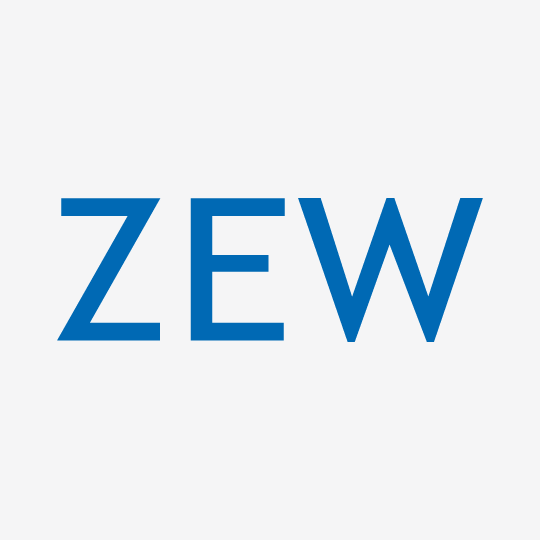 24 and 25 November 2022
The aim of the workshop is to give economists the opportunity to exchange ideas on new types of data and new developments in data use.
Please find the event program and more information here.
For registration: sandra.gottschalk@zew.de
---
31. Wissenschaftliches Kolloquium "Von der digitalen Daten­infra­struktur zu Innovationen und Entscheidungen"
17 and 18 November 2022
In cooperation with the German Statistical Society (DStatG), the Federal Statistical Office is organizing the 31st colloquium "From the digital data infrastructure to innovations and decisions". This is intended to promote the dialogue between official statistics and their user groups from science, business, politics, administration and associations. The full programm and further information regarding participation is available here.
---
UND statt ODER: Datenschutz. Wege zum guten Umgang bei Forschungsdaten
14 November 2022 at 9.30 a.m. until 11 a.m.
Data protection raises many questions to which there is often no simple or quick answer. It is important to understand how privacy and good research go together smoothly. Best practices, tools, … what works, what works better? Many of us have had different questions and experiences with data protection. This workshop is aimed at NFDI consortia and researchers and has the goal of highlighting useful tools as well as identifying common topics and questions around data protection, so that these can be addressed in subsequent talks and events.
Zoom closed
---
Doing Social Research with Reddit (Show & Tell IV)
11 November 2022 at 2 p.m.
The "Social Media Data" working group initiated by NFDI4Culture in cooperation with BERD@NFDI, KonsortSWD and Text+ as part of the National Research Data Infrastructure Germany (NFDI) will continue the fourth edition of its lecture series with two contributions from BERD@NFDI, such as Things to know when working with reddit data by Dr. Anna-Carolina Haensch, LMU München and Gender roles in parenting discussions during the Covid-19 pandemic on reddit by Dr. Ruben Bach, Dr. Alexander Wenz, MZES/Universität Mannheim.
Find out more informations about the lecture series here.
---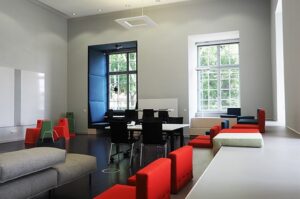 29 September 2022
ExpLAB, Schloss Schneckenhof Library, University of Mannheim
Julia Lane will provide an overview of a massive effort which has been focused on finding out how data are being used, to answer what questions, and find out who are the experts in the text of scientific publications, government reports and public documents. Followed by hands-on tutorials to work with the resulting API, dashboard, Jupyter Notebooks and visualization tools.The goal is to inspire BERD researchers to collaborate – or to develop new approaches to building an Amazon.com for European scientific and public data. Further information can be found on the website Democratizing Data and is given by the lightning talk "An Amazon.com for Data – Julia Lane" on Youtube.
---
BERD@NFDI Steering Committee Meeting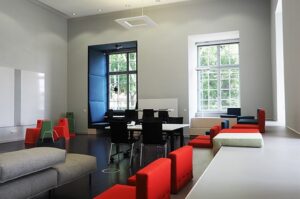 15 and 16 September 2022
ExpLAB, Schloss Schneckenhof Library, University of Mannheim
As the management body, the BERD@NFDI steering committee meets monthly this time in Mannheim. The committee shares news, discusses the latest research, and consolidates the strategic directions along with the functional and scientific program of BERD@NFDI.
15 September
To begin, the obtained staff workshop results will be presented to the steering committee and discussed by the experts to develop and establish the position of BERD within the NFDI.
noon Lunch Break
1 p.m. Steering Comittee Meeting
5.30 p.m. Official End
7 p.m. Dinner
16 September
9 a.m. Steering Comittee Meeting
12.30 p.m. Official End and Lunch Snack
---
BERD@NFDI Task Area Meeting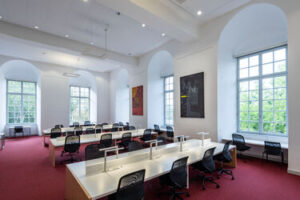 15 September 2022
Schloss Schneckenhof Library, University of Mannheim
The BERD@NFDI consortium meet in their Task Areas for a productive work meeting.
8 a.m. – 9 a.m. Requirements analysis of BERD Data Stewardship (across TAs)
ExpLAB, Schloss Schneckenhof Library, University of Mannheim
9 a.m. – 10.30 a.m. BERD Architecture & BERD Metadata (across TAs), ExpLAB
9 a.m. – 10.30 a.m. Re-using BERD (TA 6)
BWL Library, 2. Floor, Group Working Room S248 ("Raum 1")
10.30 a.m. – 11.30 a.m. Coffee Break, ExpLAB
11 a.m. – noon BERD Mockups (across TAs), ExpLAB
noon Lunch Break, ExpLAB
---
BERD@NFDI Staff Workshop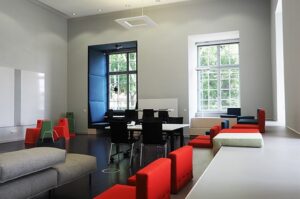 14 September 2022
ExpLAB, Schloss Schneckenhof Library, University of Mannheim
The BERD@NFDI consortium will meet for a first staff workshop in Mannheim. This workshop is conceived together with Dr. Jan Wöpking and Yannick Bauer from the German U15 to activate the exchange and communication about and within the BERD project. With the aim of focusing on strategically important perspectives for future work, a trusting working, networking and communiction culture will be developed and the joint project vision made be viable.
noon Welcome Snack
12.30 p.m. Opening
1.30 p.m. Workshop I
3 p.m. Coffee Break
3.30 p.m. Workshop II
5.30 p.m. Workshop Summary
6 p.m. Official End
7 p.m. Get together @ExpLAB
---
BERD@NFDI Participants Meeting
11 August 2022
Virtual Meeting
The first participants@BERD meeting will take place on August 11, 2022. With the BERD@NFDI interest groups of social and economic history an exchange of ideas between researchers, archives, and research data centers takes place. As representatives of their respective research areas and associations and of information infrastructures in the field of social and economic history, the input and feedback of the participants@BERD will be valuable for BERD@NFDI in order to meet the communities' needs and current challenges in research data management.